G.A. Pfretzschner German Trade Violin, Circa 1951 – SOLD JUNE 1, 2023 –
$1,495.00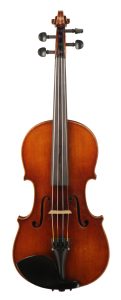 click picture to enlarge
Label Reads:

Reproduction of
Antonio Stradavari 1721
G. A. Pfretzschner
Germany 1951
We are offering a German trade violin from the 1950s in very good condition. The wood choice for the maple back and neck are beautiful- full of flame. The spruce top has even straight grain. The arching is typical Strad modeling which helps produce power and great resonance in the tone. The violin is completed with all new ebony fittings and our standard nice set up with Despiau bridge. We have also added a German Wittner tailpiece. The instrument has an amber/orange/brown spirit varnish all on top of a golden/brown base. The varnish does show some patina and the back plate has a couple of scratches in the varnish that have been touched up. These issues are all purely cosmetic and are hard to notice.
Corpus 361.0 mm., Major Width 208.0 mm., Minor Width 167.0 mm., Rib Height 30.5 mm.
The instrument has a fantastic response, almost immediate. The sound has richness and warmth that
rivals violins in a much higher price range. The sound is powerful while still retaining the warmth and
maturity that I usually find with much older violins. The violin is easy to play and get around on. There is no lack in the responsiveness of the instrument. The sound jumps off the strings! The treble side has a clear and brilliant response, but not overly bright. The sustain of the instrument is way above average. In short, this instrument puts out a mature power and is an awesome sound for the price of the violin. This 70-year-old German violin will not be in the shop very long.