French Violin by J.T.L. – Mirecourt, circa 1880's
$2,750.00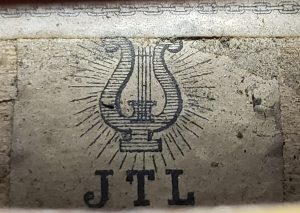 click picture to enlarge
During the early 19th century, the family of Thibouville-Lamy established a large workshop in Mirecourt, and for many years they set the French standard for high quality trade instruments. A wedding of French violin making families led the combined workshops to begin operating as Jérôme Thibouville-Lamy (J.T.L), which went on to become a famous brand. In the 1870's-80s the company had an annual production of 1300-1500 violins, violas, and cellos in three distinct grades, all of which were affordable. At their peak production in the early 1900's the company reached an annual rate of over 150,000 instruments produced by more than 1,000 luthiers. The company grew quickly under the new name most commonly referred to as J.T.L.
Our J.T.L. violin was built approximately in 1880's in the workshops of Jérôme Thibouville-Lamy. The violin also carries with it a repair label by C. Otto Schugens, a German immigrant (b 1820 – d. 1905) who served in the Union Army during the Civil War and had a violin establishment as it was called back then in Buffalo, NY. This violin has the typical J.T. L. style with a slightly wider body, slightly larger edges, and transparent amber/orange/brown varnish. The violin displays patina and natural playing wear. The violin has a beautiful and modest one-piece maple back with a spruce table of medium-width grain. We have completely worked over the entire violin, bushing all eight holes in the peg box, and carving a new set of ebony pegs, new fingerboard and nut, new sound post, and Despiau bridge.
Corpus 359.0 mm, Major Width 212.0mm, Minor Width 173.0mm, Rib Height 30.0 mm
As for the tone: the definition of sonorous is 'full or loud sound, imposing or impressive in effect or style," and this violin lives up to that definition. The instrument produces a deep and full sound on the bottom end with a roundness and maturity of tone that I really like. The instrument is sweet on the treble side and not too bright. I also found the violin capable of playing with great subtlety and old quality nuances pleasant to listen to. The treble side sings with power and the entire violin is simply easy to play. This violin has it! A great look, sound, and age that is very healthy.