F. Breton, 1831 Mirecourt Violin – One-Piece Back – Gorgeous Sound!
$4,200.00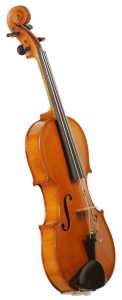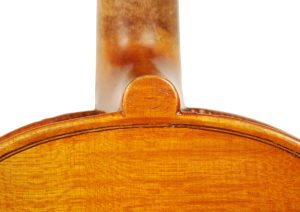 click picture to enlarge
Label:

F. Breton, breveté de S M G
Mce la Duchesse d' Angoulème (crown in the center and autograph bottom right)
à Mirecourt, 1831
Francois Breton (1780-1830) was a violin maker and had a shop from 1803-1840 in Mirecourt. The violin looks to be a general trade violin in its appearance, but what a player. It is a Wow all the way around. The purfling work is very fine and all done by hand; the top is wider slightly coarse-grained spruce. The scroll is hand cut but looks commonplace with very little figure in the cheeks. The maple one-piece back is of medium width curl, straight through the corpus. The clarity of the varnish, especially on the back, is beautifully pleasing to the eye. It is light orange, brown color on a yellow ground. The violin is light in weight and made well in the corners and lines. The instrument has the brand "Breton" in cursive on the back button. The instrument is a Stradivarius pattern even though the body is long at 359.0 mm, which helps add to the sound. We have gone over the entire violin in our workshop and completed a new set up for the violin. The instrument has general playing wear on the top plate and other than that has no issues.
• Corpus 359.0 mm.
• Major Width 213.0 mm.
• Minor Width 167.0 mm.
• Rib Height 30.0 mm.
The sound is grand and bold, but not harsh. The sound is gorgeous in its presence and lush in its tone. Slightly darker, it is clear and projects. Yes, this violin has an ample amount of power. The register is consistent on the G string right on through the E string with no faults in the middle voicing. Everything lays comfortably and did I say the instrument responds better than well. I'm blown away by the sound. I could not put the violin down and I'm taking the instrument to play on a Worship Night Friday April 28, 2023. The violin's responsiveness is also excellent with light pressure from my bow arm. Yes, I used an expensive pernambuco silver mounted bow. But I also found a $605 stick that sounded awesome too. The violin performs with a slight edginess that enhances the overtones. This instrument is a neat reminder not to judge a book by its cover. Nice clarity, great responsiveness, and presence that I really like.