Ernst Heinrich Roth – Branded Workshop Violin Stradivarius Model circa 1930 – SOLD FEBRUARY 23, 2023 –
$3,500.00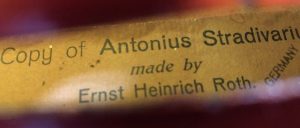 click picture to enlarge
Brand in an oval:

ERNST HEINRICH ROTH
691
MARKNEUKIRCHEN
Label:

Copy of Antonius Stradivarius
made under the supervision of (Germany)
Ernst Heinrich Roth
Ernst Heinrich Roth lived from 1877 to 1948. He was a master luthier and owned a large and successful violin making shop in the East German town of Markneukirchen, located near the border of today's Czech Republic. The company continued successfully until the beginning of the Third Reich. From that time onwards, the political climate prohibited the sale of fine instruments to countries unfriendly towards Nazi Germany. Ernst Heinrich Roth I died in Markneukirchen in 1948 and his son Albert Roth took over the management of the business and in 1953 relocated it to Bubenreuth, West Germany. Today the shop continues and is run by Ernst Heinrich Roth III and his son Wilhelm Roth. The workshop made over 14 traditional models of instruments including Strad and Guarneri models. The company and their instruments are held in high regard and their instruments are very much sought after, having beautiful workmanship and a powerful sound. Our Roth violin is a Stradivari model with a brand above the label with the # 691. It has an orange/brown classic varnish color. This violin was made in Markneukirchen, Germany and the workshop is known for their wood selection and this one is beautiful. The neck, ribs, and two-piece highly flamed back plate are a beautiful selection of woods. We have restored the top plate saddle crack and the two wings have also been cleated. We have cut all new ebony fittings for the violin and added a German Wittner tailpiece.
Corpus 358.0 mm., Major Width 206.0 mm., Minor Width 169.0 mm., Rib Height 30.0 mm.
The sound is powerful and strong, typical of a good Roth violin. The G and D response off the strings is excellent. The sound is incredibly resonant, clear and bright, but complex with a great degree of warmth. The treble side is also on even par to the strength of the bottom end and is noticeably brilliant. Yes, the violin leans to the brighter side of the tonal scale, but the sound has depth and is very pleasing to the ear. The sound gets a high mark for the entire violin, and this is an instrument that will do well playing all types of repertoire. This violin would work awesomely for a serious fiddler and is well suited for orchestra playing. A perfect instrument for the player getting more serious and who is starting to play as a soloist.