Carlo Bergonzi Trade Violin, One-Piece Maple back, Circa 1910
$2,295.00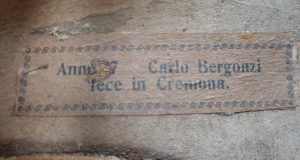 click picture to enlarge
Label Reads:

Anno 17 Carlo Bergonzi
fece in Cremona
Carlo Bergonzi (1683-1747) was a famous Italian maker born in Cremona, Italy. He studied with the son of Amati and was a pupil of Joseph Guarnerius. In the last decade of his life Bergonzi inherited the working materials and workshop of Stradivarius. This violin is a copy of a Bergonzi, also known as a trade instrument from the early 20th century made in a German workshop. The construction of the violin is well done with more attention made to the carving and design of the instrument and less regard for highly flamed woods. The maple neck does have a gorgeous flame and the instrument has outstanding patina and markings made before varnishing to give the violin a much older look. The varnish is a deep amber/brown, all consistent and very beautiful. We have meticulously gone over the entire violin and added a new ebony fingerboard, nut, a set of pegs, and carved a new bridge and sound post. We rebuilt the bottom end block area and shortened the ribs at the end block. The instrument is in very good to excellent condition.
Corpus 357.0 mm, Major width 193.5 mm, Minor width 157.0 mm Rib Height 27.0-28.0 mm
The sound is big and warm. The violin carries well and has a darker tone. The bottom end is rich and full, and this lush bottom complements the treble strings where the sound is well focused and even. The sound is mature, especially noticeable when played up in third to sixth position. I loved the sustain and response on all four strings. This instrument rings and just needs some playing in. This instrument has it; tone, age, and a great look … a great sounding violin, ready for a serious player.