Andreas Morelli, Antonius Gagliano, Circa 1930 Fantastic Violin!
$6,500.00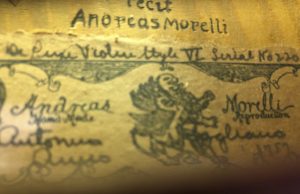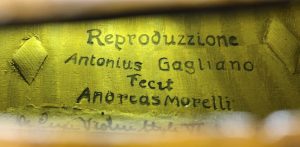 click picture to enlarge
Label:
Deluxe Violin Style VI Serial No. 220
Andreas Morelli
Antonius Gagliano
Anno 1752
Branded Above the Label:
Reproduzzione
Antonius Gagliano
Fecit
Andreas Morelli
This violin is a gem. The instrument was made in the workshop of Karl Herrmann of Markneukirchen and bears the Andreas Morelli 1757 label. The craftsmanship on this German violin is fantastic, and the wood selection for the instrument is way above average. The instrument was made circa 1930 with writing of Deluxe Violin Style VI No. 220 on the label. In addition to the label, it is also branded on the inside back with "Reproduzzione Antonius Gagliano, Fecit Andreas Morelli." The instrument has a two-piece nicely flamed maple back with the flame slightly descending from the center seam. We have meticulously gone over the violin and added a new set of ebony pegs after bushing all eight holes in the scroll. We have dressed the fingerboard and cut a new bridge and soundpost for the violin. The top plate is medium-width straight grain spruce. There are no issues with the violin. The instrument is antiqued and covered with the original amber/orange/brown with a touch of yellow oil varnish all over a golden amber brown.
Corpus 354.0mm., Major Width 207.0 mm., Minor Width 167.0 mm., Rib Height 30.0 mm.
The instrument sound is warm and inviting with just enough power and drive to make it stand out. The violin has an unusually sweet sound that has some bite. The sound is articulate, clean, and well balanced. I loved playing on the G which has depth and fullness even as you travel up into positions. The E and A are smooth, rich, and musically very clear. It's a physically comfortable instrument that lays well and is easy to steer. The violin will make a great instrument for the accomplished player who is an expressive performer looking for an expressive sound.